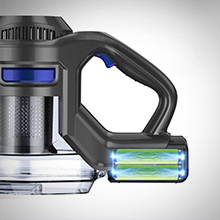 Super Long-lasting Battery
Outstanding 20-35 mins running time ensures thorough cleaning all around the house. Powerful suction to meet every cleaning demands, picks up debris and dusts, crumbs and pet hairs in minute. It performs well on all kinds of hard floors, carpet, stairs and windowsills, sofa and bed, desk and curtain, etc.
Adjustable Extension Tube
To meet different needs, whether in the storage room or in the bedroom, living room, can be easily adjusted. According to the user's height, arm length, use the environment to adjust and save storage space, convenient and practical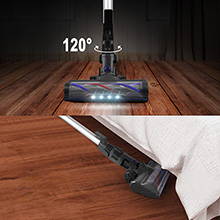 Face angle, included angle, bed bottom, table bottom or any position can be easily solved. 120° swivels sideways and 90°up and down let you clean the house in all direction, tilt and turn to avoid obstacles flexibly, allows movement in corners and hard to reach areas. Slim design of the tube and head enable to clean all corners or bottom of bed/cabinet.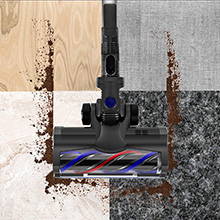 Performs Well On All Floors
it's one of the best handheld vacuum cleaner, high performance on the hardwood floor, carpet floor, tile floor, marble floor etc. Let you enjoy the thorough cleaning.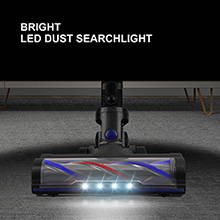 LED light illuminates every dark corner and helps to track dust.
Built-in stiff nylon bristles and soft bristles, perform well on hard floors and carpets in terms of dust.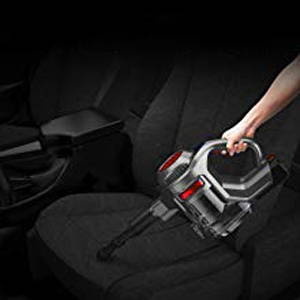 Vacuum Dirt in Your Car, Sofa, Curtains, etc. Clean dust in fabric/children's food residue/pet hair. Meeting more different needs.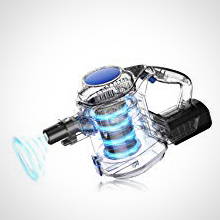 Cyclonic Filtration System
Capture allergens and purify air, improve your living environment.removes up to 99.99% of microscopic dust particles as small as 0.1 microns.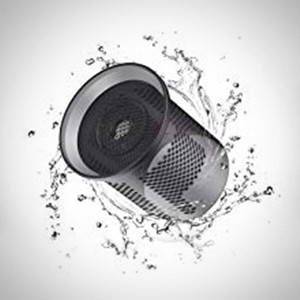 Filters can be detached for convenient clean and wash. Regular cleaning them to ensure your vacuum cleaner efficient. Please note, you should replace HEPA once a month or two.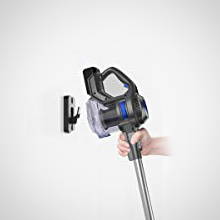 Wall mounted to place or detached storage.Convenient to store machine and attachments while charging.