Winix HR900 Ultimate Pet True HEPA Air Purifier with Plasma Wave Technology, 300 Sq ft Room Capacity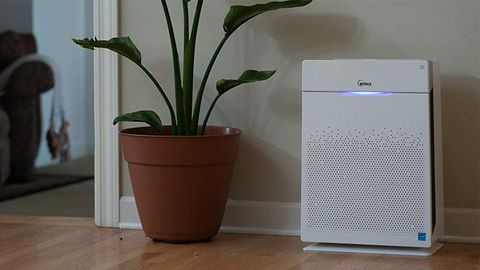 The Winix HR900 Ultimate Pet Air Purifier is designed to provide superior air cleaning for pet owners and those with pet allergies. Combined with Smart Sensors and enhanced technologies, the HR900 Ultimate Pet is the air purifier for pet hair, pet dander, and pet odors as it captures 99.97% of particles down to 0.3 microns in the home. The 5-Stage air purification system includes the Ultimate Pet Filter, Washable Pre-Filter, Advanced Odor Control (AOCTM) Carbon Filter, True HEPA Filter, and Winix Plasma Wave® Technology to provide advanced control of Pet and other Household Odors and Allergens. With the HR900 Ultimate Pet Air Purifier, enjoy spending time with your loved ones and friends knowing pet allergens and particles are being removed from your home environment. You care for your Pets, We care for your Air
True HEPA Filtration captures 99.97% of airborne pollutants, pet dander, and allergens as small as 0.3 microns.
Washable Advanced Odor Control (AOCTM) Carbon Filter captures pet odors as well as smoke, kitchen, and other household odors. Also extends the life of the True HEPA filter.
Ultimate Pet Pre-Filter is the first line of defense against Pet Hair, Dander, and Large household particles.
Washable Pre-Filter extends the life of your filter by capturing Pet Hair and larger airborne particles.
Plasma Wave® Technology safely breaks apart odors, allergens, chemical vapors, and other pollutants at the molecular level.
AHAM verified a room size of 300 sq. ft. Suitable for medium size living spaces.